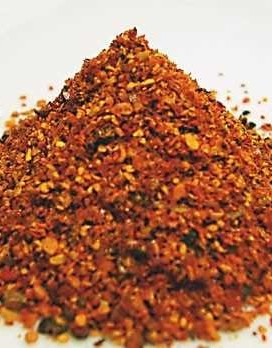 SHICHIMI TOGARASHI (Japanese spice blends)
Shichimi togarashi is a Japanese Spice blend of seven flavours that enhance the flavour of noodles, grilled meats, and more.  Shichimi togarashi (literally, "seven flavour chilli pepper") is a spicy-savory blend of coarsely ground chillies and other ingredients.
Out of stock
Description
How To Use Shichimi Togarashi
Sprinkle this versatile condiment over udon noodles, Shabu Shabu hot pots, yakitori, tempura, and other fried and grilled foods. Can also be used to flavour steamed vegetables, oven fries, a simple bowl of steamed rice, even sprinkling it on avocado toast and popcorn.
Taste: Spicy


Most Popular Use: Meat, soup, vegetables
Ingredients



Allergens:

 Contains  Sesame Seeds
Additional Information
Reviews (0)
Sorry, we are currently CLOSED for Christmas and New Year holidays until 4th January 2022.