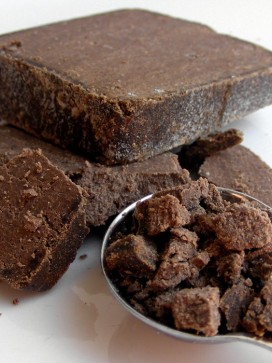 SHRIMP PASTE (BELACAN OR TERASI)
Made from sun-dried, fermented, salted shrimps or krills that is pounded into a concentrated paste
Shrimp paste is known as Belacan in Malaysia, Singapore, and Brunei, Kapi in Thailand, and Terasi in Indonesia. Shrimp paste is a common ingredient used in Southeast Asian cooking.  Used as the main ingredient in Sambal dishes and in most Thai curries.
NO stabiliser and preservatives were added.
Out of stock
Description
It is made from fermented ground shrimps or krills mixed with salt. Some versions are in its wet form such as those in Vietnam and other versions are sun-dried and either cut into fist-sized rectangular blocks or sold in bulk. It is an essential ingredient in
many curries
and sauces. Shrimp paste can be found in most meals in Indonesia, Malaysia, Singapore, Brunei, Thailand, Myanmar, Vietnam, and Phillippines.
HALAL, SUCI & BERSIH
Store in a cool dry place OR in the fridge.
Additional Information
Sorry, we are currently CLOSED for Christmas and New Year holidays until 4th January 2022.
Gout medication zyloprim
Online doctor namenda
Buy lasix 40mg online from Concord
Buy lanoxin 0.25mg online from District of Columbia
Salt Lake City glucotrol shipping