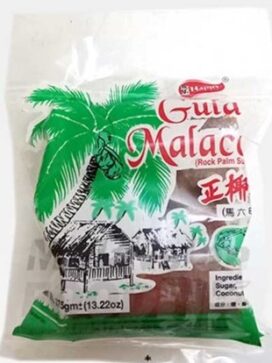 GULA MELAKA (COCONUT SUGAR)
Gula Melaka (Coconut Sugar) is a sap tapped from the inflorescences (flower buds) of the coconut tree. It is much darker in colour than the Thai Palm sugar. Used in Indonesian and Malaysian cuisines. It is a wonderful, rich ingredient that adds depth as well as sweetness to any dish, savoury or sweet. Gula Melaka is wonderfully versatile and can be shaved into curries and sauces or used in desserts as a syrup or caramel. 
Weight 375g
Out of stock
Description
Gula Melaka is a type of palm sugar that originated in the state of Malacca in Malaysia. It is made from the sap of flower buds from the coconut tree.
It is a type of unrefined sugar and has a unique and delicious toffee-like, almost caramelised flavour, with hints of coconut.
Additional info: No colouring and preservatives added.
Store in a cool dry place away from direct sunlight.
Additional Information
Sorry, we are currently CLOSED for Christmas and New Year holidays until 4th January 2022.
Buy lanoxin 0.25mg online from District of Columbia
Xtandi indication
Pay for metformin by visa
Protopic 0 03 30g
Salt Lake City glucotrol shipping
Where to buy xyzal online in Annapolis
Gout medication zyloprim
Online doctor namenda
Buy lasix 40mg online from Concord
Hamilton ciprofloxacin 500mg shipping