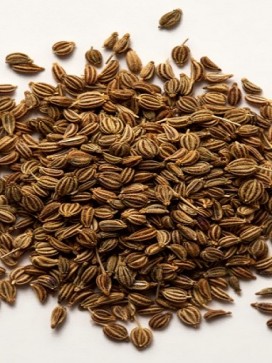 AJWAIN SEED ( bishop's weed or carom)
Ajwain also is known as Bishops Weed Seeds or Carom.  It originated in India and Pakistan. The seeds are pale brown and have an oval shape, resembling caraway and cumin. It has a bitter and pungent taste, with a flavour similar to anise and oregano. They smell almost exactly like thyme because it also contains thymol, but is more aromatic and less subtle in taste, as well as slightly bitter and pungent.  Ajwain is also used as medicinal plant in traditional medicine; primarily for stomach disorders such as indigestion and flatulence
Description
HOW TO COOK AJWAIN SEEDS
Dry roasting or frying the seeds in ghee or oil can really enhance their flavour and aroma.




 




The Ajwain seeds can also be crushed using a pestle and mortar and added to a variety of Indian food and cooking recipes.




 




The seeds are a popular addition to meals across India and the far east.
Their
powerful flavour is often mixed
into
the dough of roti and parathas or used to flavour fried foods and cur
Additional Information
Reviews (0)
Sorry, we are currently CLOSED for Christmas and New Year holidays until 4th January 2022.
Gout medication zyloprim