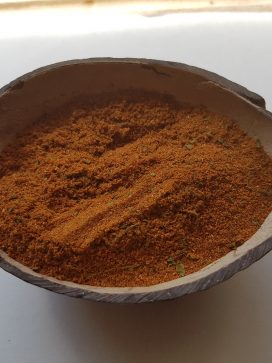 JALFREZI CURRY POWDER
A hot curry with green chillies, peppers, onion and tomatoes. Marinated meat is fried in oil and spices to produce a dry, thick sauce. Dating from the time of the Mughals, its name comes from the Bengali word jhal, meaning spicy hot.
Description
Jalfrezi is the Indian version of Chinese stir-fry made with curry spices.
You may be interested to know that 'Jal' means pungently spicy and 'frezi' means 'stir fry'
During the Raj, British created this method of reheating left-over. You may credit the Governor General for the state of Bengal, Lord Marcus Sandys who enjoyed spicy Indian foods.
As the time passed, Indian restaurants adapted the method to make a stir-fry with marinated meats. All Jalfrezi dishes have visible: onions, bell pepper, tomatoes, and Serrano. Nowadays, the meats not be leftovers, precooked, or even marinated. You may not use any meats at all and use different vegetables instead.
Ingredients: Chilli, Paprika, Ginger, Coriander, Cinnamon, Cumin, Cardamom, Turmeric, Salt



Allergens:  Processed in premises that handle nuts, soya, dairy, sesame and 
Additional Information
Reviews (0)
Sorry, we are currently CLOSED for Christmas and New Year holidays until 4th January 2022.
Buy lanoxin 0.25mg online from District of Columbia
Gout medication zyloprim
Where to buy provigil online in Des Moines
Nebraska diflucan 200mg shipping
Buy lasix 40mg online from Concord
Salt Lake City glucotrol shipping
Protopic 0 03 30g
Pay for metformin by visa
Online doctor namenda