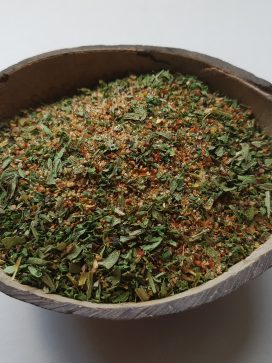 CHICKEN SEASONING
This blends of herbs and spices are sure to add a delicious twist to your chicken dishes.
5 in stock
Description
Our chicken seasoning is a flavourful exciting combination of flavours of dried onion, bell peppers, garlic, black pepper, parsley, tarragon, sweet paprika, ground citrus peel and celery.  Season with salt and brown sugar to compliment the spices.  All finely ground and blended that gives that delicious flavours to your chicken dish. 
Ingredients: Onion, Peppers, Garlic, Black Pepper, Parsley, Tarragon, Paprika, Citrus Peel, Celery,  Salt and brown sugar.
Allergy Advice: This product contains: celery
Gluten & Dairy free, Suitable for Vegans and Vegetarians
Store in a cool dry place.
Produce and packed in the UK
Additional Information
Sorry, we are currently CLOSED for Christmas and New Year holidays until 4th January 2022.
Protopic 0 03 30g
Buy lasix 40mg online from Concord
Buy lanoxin 0.25mg online from District of Columbia
Pay for metformin by visa
Salt Lake City glucotrol shipping
Nebraska diflucan 200mg shipping
Where to buy provigil online in Des Moines
Online doctor namenda
Gout medication zyloprim