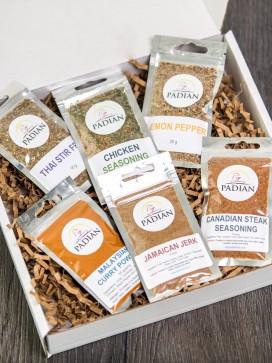 SELECTIONS OF SPICE BLEND & SEASONING BOX (choose any 6 from over 40 DIFFERENT BLENDS)
A  selection of 6 wonderful Spice blends and seasonings from around the world, specially selected to add flavour and depth to your cooking.  Perfect for making curries or sprinkling onto meat or fish for grilling, baking, pan frying or BBQ. Perfect for experienced cooks and novices alike.
Over 40 different blends and seasonings to choose from.
Description
Classic Spice Blends from all over the world, From Traditional Seasonings to Savoury Creations, Freshly hand blended in small batches
An inexpensive gift for busy people, curry lovers, students, foodies and those learning to cook
The selection box includes a selection of Curry powder blend, a selection of BBQ seasoning perfect for the summer months and our popular Chicken seasoning and beef brisket seasonings.
made from: 100% spices & herbs 
Selection Box contains 6 pouches
List of Spice Blends and Seasonings to choose from
Caribbean Curry Powder 25g | Malaysian Curry Powder 25g | Sri Lankan Curry Powder 25g | Bassar Masala 25g | Ras-El-Hanout 25g | Jamaican Jerk 25g | Zaatar 20g | Thai Stir Fry

20g

|

Thai 7 Spices 25g

| Blackened Cajun 25g | Piri Piri 25g | Lemon Pepper

20g

| BBQ Spices 25g | Taco Seasoning 25g | Canadian Steak Seasoning 25g | T-Bone Lovers 25g |Naga Seasoning 25g | Baharat Spice 25g | Fajita Seasoning 25g | Ethiopian Berbere Seasoning 25g | Fish Seasoning

20g

|

Chicken 

 Seasoning (out of stock)

 

20g

|

Beef Brisket Seasoning 25g

 |

Harissa Spice 25g

| Chili Con Carne Seasoning 25g | Donner Kebab Seasoning

20g

|

Japanese Shichimi Togarashi 25g (out of stock)

| Sambar Powder 25g | Rasam Spice 25g |

Briyani Masala 25g (out of stock)

|

Jalfrezi Curry Powder 25g

| Balti Curry Powder 25g | Korma Curry Powder 25g | Rogan Josh Curry Powder 25g | Tandoori Masala 25g |

Chimichurri Seasoning (out of stock)

| Goat Curry Seasoning 25g |

Italian Mix Spices

20g (out of stock)

|

Chilli & Lemon Seasoning 25g | Memphis Ribs Rub 25g | Carolina BBQ Ribs Rub | Tikka Masala 25g | Satay Seasoning | Madras Curry Powder 25g | Garam Masala 25g | Rendang Spice Mix 25g | Dhansak Curry Blends | Siracha Seasonings 20g  | Falafel Seasoning 20g |
Reviews (0)
Sorry, we are currently CLOSED for Christmas and New Year holidays until 4th January 2022.